Systems for Infrastructures
Pagano S.p.A. performs all engineering installations on the road and highway infrastructure.
The know-how acquired over the years allows for an optimization review of project designs and their implementation in full compliance with the quality standards required by industry standards.
Multiple works in the tunnel, such as lighting, variable messaging and SOS systems ensure high comfort and maximum safety for users while driving.
Tunnels longer than 1,000 m are relevant in that the current regulations require the installation of essential systems for road traffic safety, such as: ventilation, air quality detection, fire detection system, lighting, emergency call system (S.O.S.), by-pass and water system for fire extinguishing.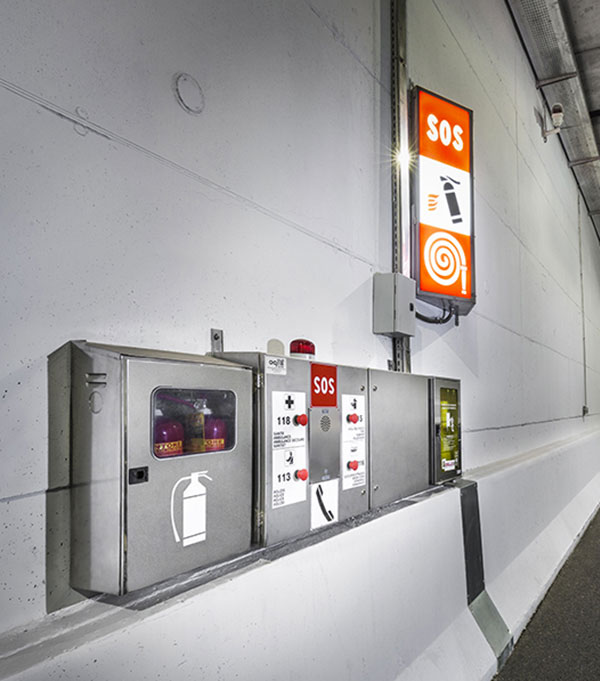 Tunnels are equipped with the following technological facilities:
Permanent and reinforcement lighting system;

Evacuation lighting;

Ventilation system;

Pollution and air velocity control system;

Vertical lighting signage system;

Variable message signs;

Traffic light system at the junctions.

SOS telephone communication system;

TVcc video surveillance system;

Tunnel fire detection system;

Traffic monitoring system inside the cross-connections between tunnel tubes;

Electrical and special systems in the cross-connections between tunnel tubes;

Plant layout and fire resistance of equipment of the cross-connections between tunnel tubes;

Radio re-broadcasting equipment;

Fire-fighting water system;

Power supply system;

MV/LV electrical transformer substations.

Supervision and control centre.
The design of technological systems of tunnels, intersections and overground sections are regulated by the following standards: European Directive 54/2004/EC and Legislative Decree No. 264 of Oct. 5, 2006 "Implementation of Directive 2004/54/EC on safety for tunnels of the Trans-European Road Network," the "ANAS Central Planning Directorate Guideline" No. 17/06, the UNI 11095 Standard 2003 Edition "Tunnel Lighting," and the UNI 11248 (13201) Standard "Street Lighting – Selection of Lighting Categories."